All of Original WALFOS Brand products are made of Food Grade , no odor ,BPA Free high quality platinum silicone material, not cheap rubber or TPR material.
Our silicone material is the same as silicone baby pacifier ! Why we use this high quality silicone? Because it is safe for poeple to use it in oven, fridge and our health. Hope your family love and enjoy WALFOS high quality silicone product.
​WALFOS 2017 Creative Silicone Folding Water Bottle
Soft and Folding Water Bottle, Easy to Carry, Can be Stored in Your Bag, Pocket after Folding.

FDA approved. Made from Food Quality Nano Silica Gel. BPA Free and Non-Toxic.

With a Wide Mouth. Easy to Fill and Pour with Water. The Ice Cubes Can Be Filled in Easily.

Double Leak-proof Design, Well Sealed.

Perfect for running, biking, hiking, camping, picnic, including all sports, outdoor or everyday activities.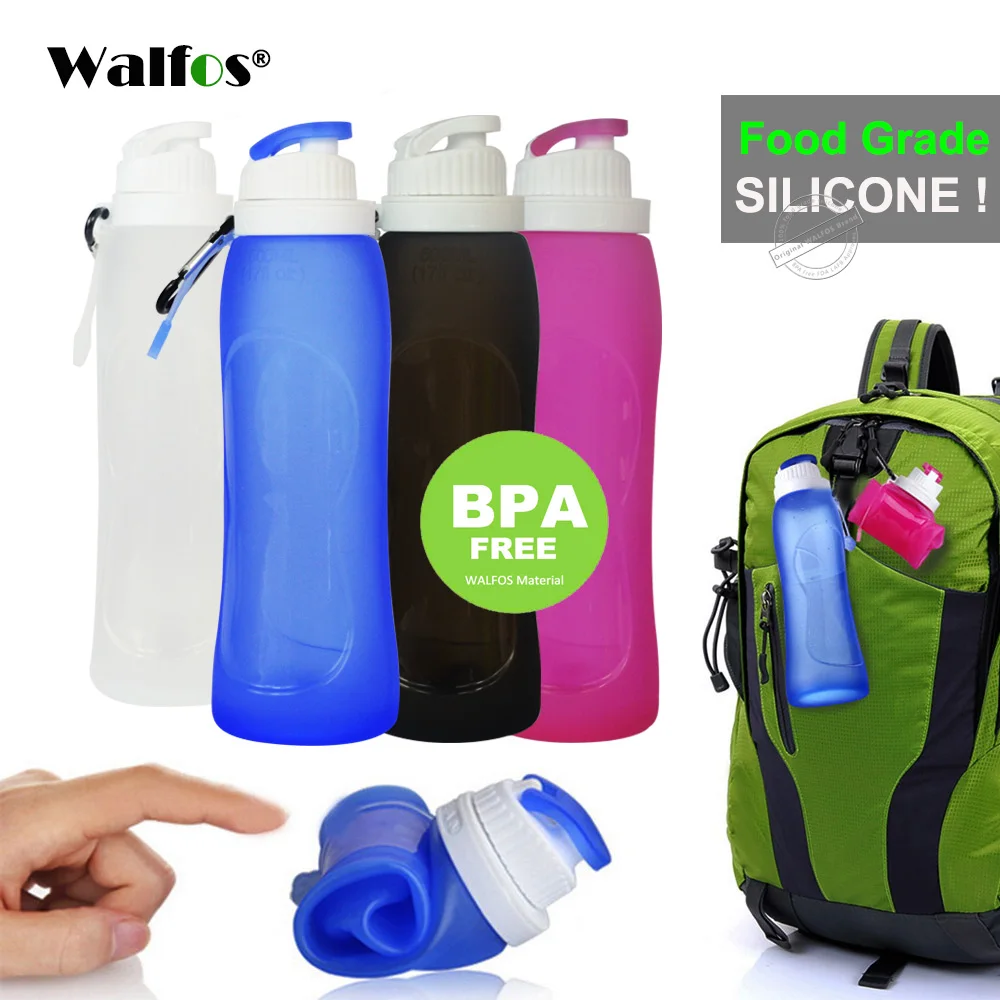 Heat Resistance from 40 ℉(freezing) up to 400 ℉
100% Food Grade WALFOS Silicone, BPA Free!
Very Handy to Use
Flexible, Unbroken silicone material
Air Proof , Leak Proof Design
Food grade PP mouth, not cheap plastic
Original WALFOS label
All WALFOS products will have Original WALFOS label in packaging.
If you don't find it in packaging, the product is fake!!!
Please kindly contact us if you find fake WALFOS product on aliexpress.
Below is WALFOS bigger size bottle and Thermos Travel Mug,
click photo to know more
100% Food Grade Silicone,Safe to use.

Easy to fold, easy to carry.

Roomy Bottleneck, Pour in and pour out easily,To control water flow white lid of bottle is removably, Can be put into large objects, such as ice

And can be put into ice, accidental scalding or a cold have a fever can use it to lower the body temperature. When the weather is cold, it is a hot water bag.

Soft collapsible, Can be stored in any backpack pocket after folding, Many fold will not leave a mark
COLLAPSIBLE SILICONE SPORTS BOTTLE – tired of carrying empty, bulky sports bottles? Our premium, 17 oz, Sports Bottle effortlessly collapses to 1/5th its original size for super easy, metal clip makes it easy to attach to a variety of items.

ULTRA TOUGH FOOD GRADE SILICONE – leak resistant design and manufactured from flexible, ultra tough food grade silicone that won't split, crack or tear even after repeated use, for a super durable collapsible bottle that can be reused time and time again!

SAFE TO USE – made from BPA Free food grade silicone that has been FDA approved. The bottle is non-toxic and has no odors or aftertaste.

MULTIPLE USES – whether you're out camping, biking, running, yoga, crossfit, or camping. Its simply a great way to have fresh water with you.
Comments from customers:
I can't believe it took people so long to come up with a silicone water bottle. Everyone in my family is in love with this thing, and when my daughter brings it to cheer it is such a big hit it is almost a distraction. People gathered around her just to poke and squish her water bottle. This is by far the best water bottle to send to school with kids that I have ever tried. (Trust me, we have tried a lot. We may have a little wee bit of a water bottle problem here…) When it is empty they can just clip it right to the hook on their backpack and easily carry it home. Considering my daughter once broke her wrist with a stainless steel water bottle that she attached to her backpack, this is much safer and makes me feel much better! So far we have three, and just need to purchase two most so everyone in the family can have one.
The one thing I would recommend is to make sure your child is older. My five year old struggles with this bottle, because it takes more coordination than she has at the moment to hold it from the top instead of the middle, and to make sure she blows into it when done drinking so it reinflates. Otherwise it sprays everywhere or tends to flop over in the middle and drenches the front of her shirt.
This came in really handy when traveling. Being able to fill it up, drink on the go, and roll it up later to save space was very convenient.
I wish the carabiner was stronger because it broke on mine so I could not clip it onto my bag anymore which stunk, but if you have a really tiny carabiner you could use it. I only had thicker ones on hand.
When filling and drinking I suggest holding the plastic lid. If you hold the bottle, due to its silicone nature, it will squirt water everywhere. Sounds obvious but out of habit most of us would grab the bottle around the side to drink it.
Pictures from our customers:
Please see below comments from our clients.
Origninal quanlity at a good good price!!!!!!!!
Really nice! Good quality! Even better is the price!!
Why choose Walfos Store:
1.Quality Guarantee!
100% food grade platinum silicone material.
You can return the goods if there is any quality problems, and we will refund you money.2.Fast shipment and good packing for parcel.
We choose fast shipment service and make sure parcel in good situation for you.
3.After sale service.
Professional man to resolve any questions.